If you are looking for a new set of cooking ware, you will often than not try to decide whether to invest your money on All Clad or save a coin by going for Cuisinart. Well, this article is meant to help you make the right decision. We have compared the two brands' cookware side by side Cuisinart vs all clad to give you the information you need before your purchase.
Comparison Table Of Cuisinart vs All Clad
Cuisinart vs All Clad – Everything You Need To Know
All Clad was founded in 1967 with the aim of manufacturing top- quality cookware. True to their word, the brand is known for its unmatched cookware all over  In the USA. Cuisinart was founded in 1973 in the USA.  However, all its cookware is manufactured in China.
How does their cookware compare?
Design
Both brands feature a modern design of brushed and polished finishes. Cuisinart cookware comes in different exterior colors to choose from. Additionally, they have hammered finish collections that you might love.
Construction
Both brands cookware is designed with bonding layers all over the cookware. Cuisinart has several collections that feature bonded layers only at the base.  Their downside is that it results in uneven cooking and cold spots.  You must choose wisely.
Material
Majority of the cookware collection from All Clad and Cuisinart is made of stainless and aluminum core sandwiched between 2 layers of top quality stainless steel.  All Clad features another range of cookware with copper core instead of aluminum. Copper is a good conductor of heat, making this collection fast in cooking.
Both brands have a non-stick collection. Cuisinart's non-stick collection does not feature ceramic, regular, or water-based non-stick coating. All clad's non-stick cookware is designed with dedicated anodized aluminum and steel bonded base to prevent warping.
Performance
All clad cookware is oven-safe even at extremely high temperatures than their competitor Cuisinart. The cookware collection is also induction compatible, including their non- stick collection. Things are quite different with Cuisinart cookware; only 2 of the non- stick collection is induction compatible.
Durability
All Clad brand manufactures their cookware in a strict and controlled manner resulting in the desired durability. Most of their cookware is made of 5 layers of bonded material.  Cuisinart collection is made of 3 bonded layers, which may not ensure needed durability. A lifetime warranty will be provided by the company upon purchase. The warranty takes care of any material defects and craftsmanship.
Safety
You can cook comfortably in both of this cookware. Both the brands prioritize your safety in the kitchen. The cookware features fresh- grip handles that you will quickly get hold of when you need to get your food out of the fire. Their handles come with stainless steel rivets to prevent the pans from tipping and pouring your food.
All Clad cookware is sticky-resistant thanks to their starburst finishing.  This makes it easier for you to clean them even without using your dishwasher.
Both the cookware lids have a tight-fitting, thus preserving all the aroma of the food you cook.
Both Cuisinart is oven-safe; you can use them with temperatures up to 550 F. All Clad can withstand temperature up to 600F.  They are both drip-free to ensure that you can smoothly transfer food to your serving pots.
All the components of the cookware are dishwasher safe. You can have your collection clean in a short while.
Available Options
Cuisinart features 7 non- stick collection and 6 stainless steel while All- clad has 3 non- stick collection and 10 stainless steel
Customer Reviews
All Clad has made a name for itself as a quality and reliable cookware company. All its cookware comes with a guarantee to last a lifetime. Cuisinart is known for its design decent quality cookware at a wallet-friendly price. Their cookware is not as long-lasting as those from All Clad.
Which Cookware Should You Buy?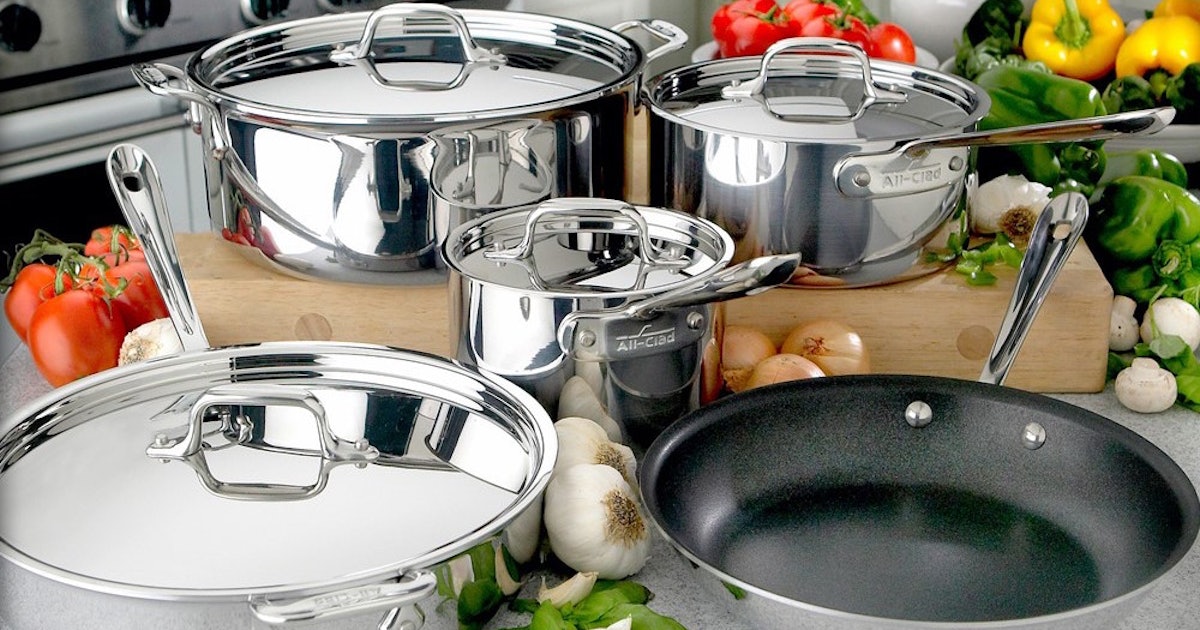 There is no single doubt that All Clad wins in most aspects. Their main focus was to design long lasting collections. For example, All Clad's non- sticky collection comes with a bonded steel base to make them compatible with induction cookers. All the Cuisinart collections do not feature a bonded steel base.
Cuisinart beats All Clad in some aspect. The brand has several collections to choose from. They offer 7 non- stick collections while All Clad has only 3 that do not differ much.
The second aspect where Cuisinart wins is in pricing. This cookware is quite affordable. Most collections go at half the price of All Clad collection. Cuisinart is your option when you are working on a fixed budget.
All Clad is worth its price tag. Do not hesitate to go for it if your budget can allow.  You may spend more on acquiring the cookware, but one sure thing is; you will not need a replacement.
Why is All Clad expensive than Cuisinart?
All Clad cookware collections are manufactured in the United States using top-notch stainless steel. The brand does not outsource from China in a bid to cut on the budget.
The company makes use of high quality and costly materials such as stable anodized aluminum and top-grade steel.
All cookware collection from this brand is designed with bonded layers all over.
All Clad is a reputable brand, and it is only fair to pay more for its products.
They offer a lifetime warranty and all-round the clock customer care support.
Conclusion
Choosing the right cookware is hectic. You may be able to impress one or two of your friends with All Clad cookware. However, you have to remember that a lower price does not mean poor quality. Cuisinart cookware collection has several positive customer reviews.  Definitely the best option with the additional advantages as compared to All Clad.
I hope you enjoy reading our Cuisinart vs All clad brand comparison article. One a side note, we also did a comparison between Calphalon and Cuisinart. Do check them out.