Induction cooking comes with a lot of benefits, so it is no surprise why so many people make the switch. Indeed, it might be a bit expensive to change all your cookware, but you will save money in the long run, not to mention the convenience and the safety. Your induction cooktop represents the most important investment in the process though. Choosing the right model can be a challenge, but some products do stand out in the crowd. This is when the Isiler induction cooktop review kicks in.
If you are used to cooktops and the industry, you are probably familiar with the brand. It has some of the best rated cooktops on the market and its quality standards leave no room for mistakes. It brings in excellent value for money and it will most likely bring in a durable piece of equipment. However, choosing the right cooktop can be a bit tricky if this is your first. So, what should you know about the flagship of this company?
Isiler Induction Cooktop Review [Updated]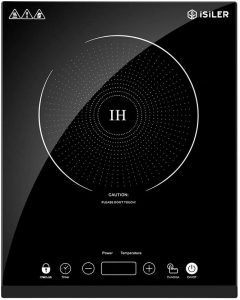 Heating elements
Heating elements represent the heart of your induction cooktop. High quality elements will bring in the right experience, while poor quality elements will ruin everything for you. The leading Isiler induction top comes with 1800W of power. It is above average in this industry and allows you to change the power based on what you plan to cook.
The minimum value you can set is 100W. You can then increase the power in 200W increments. In other words, you have nine different levels of power. At the same time, the cooktop also features preset temperatures – the most common values you will find when looking for recipes.
In terms of temperature, you can go from 140 to 460 degrees F. The temperature is adjustable in 40 degree increments, so you have eight different levels.
Sizing standards
The unit measures 11.6×14.2×2.2 inches. It is, after all, a single cooktop with enough room for one pot or pan only, which is excellent for pretty much all applications – not great if you prepare food for 20 people though. It weighs 91.7 ounces, so moving it around will not cause any issues.
It is important to know that the power cable is just under four feet in length, so make sure there is a power plug nearby.
Controls and convenience
No matter how good an induction cooktop is, its capabilities are directly proportional with its controls. If it feels challenging to adjust and control, you will never feel like using it. Fortunately, this unit has straightforward and intuitive controls. Moreover, controls are available through a touchscreen for even easier operation.
Buttons are large, so you are less likely to miss them. There are not too many of them anyway – one button for the on and off function, one for the function, one for a timer, two + and – buttons for the temperature and power, as well as a child lock button.
All the nine power levels and the eight temperature levels can be adjusted through the + and – controls. You will have to choose the function and play with the controls. The timer goes up to 180 minutes. Once done, the cooktop will shut off automatically for safety, but also to prevent the food from overcooking.
Sensors and sensitivity
The best induction cooktop from Isiler will tell you whether or not you use the right cookware, which is certainly a plus. Most other cooktops will do nothing – there are no risks involved, but you are literally wasting time. Things change with this one.
To prevent problems, you should get magnetic pans and pots. Cast iron is normally alright to use. Most stainless steel pots and pans will also work.
There is a little trick to determine yourself if you buy the right cookware. Get a magnet and try to stick it to the surface of the cookware. If it sticks, it is good to go. If it does not, you have to keep searching. From this point of view, it is obvious that aluminum will never work.
Surface and ease of use
Not the whole surface of the induction cooktop can be used to cook. However, the surface has a visible circle in the middle – this is where the pan or pot should go. The diameter of this circle is 6.7 inches. Practically, you can fit pans and pots in this size, but the larger ones will not work.
While it looks extremely soft and fragile, the glass surface has been made with premium materials. It can take a good beating before showing any signs of wear. It is wear resistant and ensures a super simple cleaning procedure – just get a clean cloth and a bit of water.
The heated area is uniform. If your cookware is in good condition, your food will be evenly cooked with no issues whatsoever. The whole thing is compact and lightweight, while its thickness allows easy storage and transportation.
The induction cooktop is excellent if your space is limited. It is also great for outdoor uses.
Fans and ventilation
Proper ventilation is a must whenever you cook. Just because induction cooktops do not use an actual flame, it does not mean that things cannot get hot. In fact, ventilation is mandatory for a long lifespan and safety.
This unit comes with a large fan – a six blade model that is designed to be quiet. It dissipates heat within seconds, so there is nothing to worry about in terms of overheating. The fan will keep going even after you turn the cooktop off. It will run for a few more minutes until the temperature is cool and safe.
You can tell when it is about to stop. The display window will say H from hot. Once the temperature goes under 120 degrees F, the H will be gone and the cooktop is cool.
Keep in mind that anything with a fan requires a bit of maintenance and induction cooktops make no exception either. If the air intake clogs, the appliance might stop working. Fans tend to get clogged due to the dirt and debris getting inside. Keep an eye on the air intake. Ideally, you should clean it before such situations arise. If they do, simply clean the debris and dirt, let the appliance cool down and turn it back on.
Safety and protection
The Isiler induction cooktop comes with a few safety and security measures to prevent accidents. Unexpected situations may arise when least expected, but this cooktop is built to prevent them. Take the safety lock, for example. It prevents kits from playing with the buttons and accidentally turning it on.
On the other hand, the timer ensures the appliance will shut by itself once the food is done. Not only does it reduce the risk of burning your food, but you can also prevent it from overheating.
Talking about overheating, you have a protective feature against this problem too. Overheating occurs when the internal temperature goes beyond the limit you choose. There are a few different reasons that may lead to this problem, but most commonly, it is a clogged fan. If such a situation arises, the cooktop will stop automatically.
Finally, the cooktop has a built-in fuse. If the temperature is ambient at 77 degrees F, the internal temperature will be below 563 degrees F.
Accessories included in the package
The package is basic and includes everything you need to start cooking right away. You can literally take your new Isiler induction cooktop out of the box, plug it in and start preparing a meal. There are a few other things in the package.
The user manual will give you a few tips and tricks on how to use the appliance and how to look after it. At the same time, the warranty card will be included in the package too.
What to look for in an induction cooktop
While the Isiler induction cooktop is certainly one of the best portable units out there, it does pay off knowing what to look for in an induction cooktop anyway. Different people have different necessities, but on the same note, there are a few things that will make a difference.
Power rating and levels
A good induction cooktop should go anywhere between 1000W and 1800W of power. Higher power means a faster cooking procedure, but the electricity bill will also increase a bit. Think about the power outlets in your house too, as you do not want fuses to blow.
As for levels, you do not need too many of them. If you can adjust it in small increments of 200W, it is more than enough.
Presets and panel
A few presets can make your life easier. Some of the most common ones include stir, fry, grill and so on. They have preset temperature levels and time. When it comes to the panel, it must be intuitive and easy to use. You can find high end touchscreen panels or classic buttons.
A timer may also help, as you do not have to keep an eye on your food while it cooks.
Portability
Even if you need an induction cooktop at home, a bit of portability will be quite handy. It gives you the possibility to cook wherever you want – you just need a power outlet. Hosting a party on the roof? Moving house? Going on a camping trip? Your induction cooktop from Isiler can go anywhere, for example.
Size and compatibility
Apart from the cooktop size, consider the pan size too. Bigger is better. Consider the minimum size requirements too. If your pan is under the minimum requirement, the cooktop may not detect it. Generally speaking, the larger the diameter, the faster your food will cook.
The compatibility will mostly direct you to cast iron and stainless steel cookware. Not all pots and pans are compatible with induction cooktops. Place a magnet on the bottom and if it sticks, the cookware is compatible.
Frequently asked questions
Not sure about one thing or another? Here are the most commonly asked questions.
Is the Isiler induction cooktop noisy?
You will hear the fan, especially if there is no background noise – such as a radio or television. It can get a bit noisy when cooking in a quiet environment.
Is the induction cooktop safe?
Induction cooktops are safer than any other type of cooktops because the heat does not come from a burner or a flame.
Can induction cooktops save energy?
Yes, they can. While they will increase your electricity bills, they will also reduce your gas bills. The proportion makes them very cost efficient in the long run. In fact, some induction cooktops come with energy efficient stickers.
Is this Isilner cooktop easy to clean?
Absolutely. The part your pot or pan sits on is the only part that heats. Even if food spills or a stir fry messes everything around, at least the rest of the cooktop is not hot. The food does not get burnt, so cleaning is a breeze.
Verdict
As a short final conclusion, it is easy to tell what makes this induction cooktop from Isiler such a popular option. Not only is it efficient, but it is also portable and looks stylish. It is fast and can get the job done in no time, while the stylish touchscreen panel will always look good in your kitchen. With maintenance being a piece of cake, the Isiler induction cooktop is likely to be the best portable option out there.
If you enjoy reading this article, I am sure you will enjoy our brand comparison between Calphalon and Cuisinart.
Sources: