Whether you want to adopt a healthy lifestyle, you enjoy the taste of fresh fruit juice in the morning or you simply want to get more vitamins into your diet, a professional blender seems to be the way to go. Simply toss everything you want inside and discover some new recipes based on nothing but your favorite flavors. But then, how do you choose the best blender? Based on a plethora of Ninja NJ600 review, this model could be the best thing out there.
There are lots of options out there and some of them are obviously better than others. Every manufacturer will promise you the world, but at the end of the day, there are some limitations. At this point, it pays off doing your homework and learning from others experiences. So, what does the NJ600 model have in store for you? What do most Ninja blender reviews claim about this appliance? Here is everything you need to know before making a final decision.
Ninja NJ600 Review – Is it worth the money?
Power and motor
These are the first things you should normally look for in a professional blender. The more power it has, the more successful it will be. Your smoothies will be smoother than ever, while its power can also crush things that basic blenders cannot – such as ice or perhaps herbs. Sure, a powerful motor will obviously require more power too, but then, you will only use the blender a few minutes a day.
The NJ600 model is extremely powerful – one of the most successful ones on the market actually. With 1000W of power, it is at least 25% more powerful than its competition – more than 50% more powerful than basic blenders. Why would you need so much power then? The motor can crush the ice with no issues whatsoever, so you can also throw some flakes or a few cubes inside your smoothie.
It takes seconds to turn ice into powder. Then, you will no longer have to worry about jams or wait for too long. Your smoothie will be done within seconds. Despite the higher energy consumption, it is actually more efficient because you use it for less time. Plus, think about all the frustration associated with basic blenders when they jam.
Sizing standards and capabilities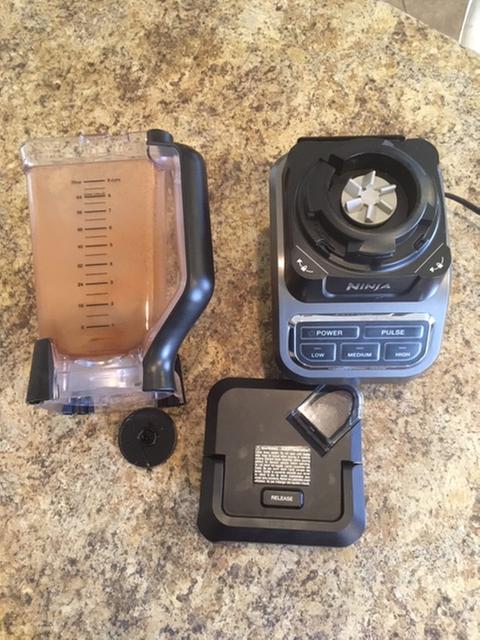 According to pretty much every Ninja NJ600 review, this model has a great capacity and can prepare six to eight glasses of fresh drinks or smoothies. The pitcher measures 72 ounces. A regular can of drink takes around 12 ounces, so you can come up with enough drink for your entire family in one go – forget about loading the pitcher before every smoothie.
There is another thing that will draw your attention as you start using this blender. If you have had cheap models before, you have probably noticed they come with three blades – four if you are lucky. This one features six blades, as well as a superior technology. Pair these blades with a powerful motor and you have a machine.
These Ninja NJ600 features combined represent the main reason behind its capability to turn ice into snow or powder within a few seconds only. As you chill your smoothie, you will no longer have to worry about swallowing big pieces of ice. Instead, the ice is so fine that it instantly cools your drink without causing any discomfort.
Space and noise
It makes perfect sense – whenever you buy a new appliance, you want to make sure you have room for it. If it is small and portable, you still want a place to keep it safe, rather than move it around from the countertop to the table and so on. Measuring 8x7x17 inches, this blender can go anywhere. It may have a powerful motor, but most Ninja NJ600 reviews claimed that it has excellent space efficiency.
You can fit it on the countertop or on a table. It features a tower design and no parts stick out of it. There are no awkward designs, so you can also hide it in a cabinet when not in use. Moreover, you will love the cord. Practically, the appliance features cord storage – no more annoying wires hanging out of appliances everywhere.
The noise is another common consideration a lot of people overlook. They get a loud blender, so they learn this lesson the hard way. Fortunately, Ninja has already thought about this issue. When running, the blender will make a bit of noise. It is not the type of noise that will wake your entire family up before breakfast, but you may have to turn the volume on your TV up a little.
Control panel and operation
Whether this is the first blender you are using or you have already had a dozen before, you will face no issues dealing with this blender whatsoever. All the buttons you need are located on the front side of the appliance. You only have five buttons anyway. One of them turns the unit on or off. Another one is used to pulse – clearly labeled, so you cannot miss in.
Then, you will find three buttons in the middle – each of them marked one to three. They are responsible for the actual blending operation. The higher the number, the faster those blades will move. If you only have a couple of bananas and an orange, you might do with a lower speed. If you have some herbs and lots of fruits to fill the pitcher, you might want to go for the higher speed.
Safety measures
Safety is the main priority when it comes to blades and knives. If something is sharp, you need a bit of safety. No matter how careful you are, your pet might choose to play with this new toy or perhaps your kid is trying to get a smoothie while you are not paying attention. Lots of Ninja NJ600 review praise the safety in this appliance because there is no risk to get injured.
The machine will never operate without every part in place. In other words, the pitcher and lid must be thoroughly closed. They must be in the right position – all locked. In other words, you cannot throw stuff inside if it runs. If the lid goes off, the blender stops instantly. You can never get yourself cut or injured while using the appliance – simple as that.
On another note, more and more people are concerned about anything that gets in touch with their food. After all, certain materials can leak chemicals, especially as they get used overtime. From this point of view, it is worth noting that all the parts getting in touch with your smoothies and drinks are BPA free, so there are no risks there.
Care and maintenance
So, you are planning to get yourself a nice blending machine that will last for ages. You want quality and most Ninja NJ600 review out there are extremely convincing. But at the same time, you want to know how to look after it in order to extend its lifespan. You want to take care of it and give it the maintenance it deserves.
Cleaning the Ninja NJ600 blender is a piece of cake. For example, a few of the parts are dishwasher safe. You can throw the lid, blades and pitcher in the dishwasher. Make sure the part with the blades is secure. Obviously, if you get yourself a few smoothies a day, chances are you will do the washing part manually. In fact, lots of people choose manual maintenance for the blades.
If you want to wash the blender manually, you will have to use some warm tap water and perhaps a bit of soap. Make sure the electrical part is not exposed to water. You will have to remove the things on top – those are washable. The base with the motor cannot be washed – there are no reasons to do it anyway. Let the parts dry or dry them yourself before reusing the blender.
Bells and whistles
There are not too many bells and whistles and this is great. You do not want an expensive blender with lots of random features that you will never use – sure, they look appealing, but they are just a waste of time. This blender is suitable for those who want a fresh drink or a smoothie – ideal for both singles and families.
The only special feature based on most Ninja NJ600 blender review targets the pitcher. The lid has a built-in spout. You do not really need to take the lid out in order to pour, which prevents splashes and gives you some control. You can also take the blades out, so you can use the blender pitcher as a serving pitcher.
Final words
Bottom line, it is no surprise why you can find so many positive Ninja NJ600 reviews. This blender is definitely worth the money and will provide many years of smoothies with no problems at all.​
Also, do read the ambiano food processor review.